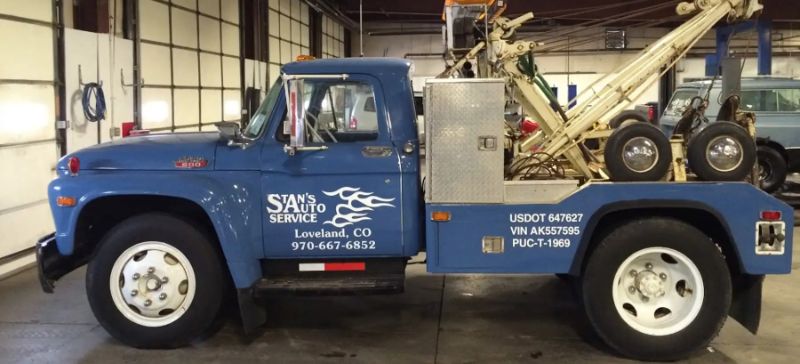 The Barthlama family is 5th generation automotive technicians. It all started in the early 1930's when Stan's father and grandfather built a Chevy race car using parts from 3 different cars. The car was an overhead cam engine that did 92 MPH and held track records in many of the racetracks in Northeastern Colorado, like Sterling and Yuma. The father and son team started and ran Willis Garage in Ft. Morgan Colorado.
The original Stan's Auto Service was established in November of 1984 by Stan Barthlama and consisted of two bookkeepers, one full-time technician, plus Stan. Stan's Auto Service has since grown into an operation that supports over 20 employees including 7 technicians and 3 full-time tow-truck drivers. We employ many 2nd and 3rd generation technicians, some of which have worked here for 10+ years.
Stan's Auto Service has 6 tow & recovery trucks. Our 1st and original tow truck was a 1964 Ford F600 with a Holmes 500 body. We currently run heavy-duty semi tow trucks and flatbeds to haul on a deck. We operate out of a 17,000 square foot building on 2.5 acres, with a fully operational parts department and a large customer lounge.